These 7 iPhone science apps cater to all those inquisitive minds and curious hearts out there. We have scoured through different aspects of this vast field and have come up with a comprehensive list that will surely make you shout, 'Eureka' when you discover something new. Thrown into our tailored amalgamation is a scientific calculator, periodic table, science glossary, anatomy of the body and brain, molecular structure and even an astronomy pick that will definitely leave you starry eyed. So get ready to learn new things and marvel at spectacular scientific sights.
1 – powerOne Scientific Calculator – Pro Edition:
For just under $5, you'll be able to get your hands on the powerOne Scientific Calculator – Pro Edition. What's so special about this app? Well, it merges an RPN and algebraic calculator with loads of customizable spreadsheet-like templates. With this stored in your Apple handset, you'll be prepared to take on just about any sort of task. It could be working with conversions or even deciphering engineering and science related digits. And when numbers just don't say it all, the app provides simple function graphs, scatter plot and bar charts for a better understanding of the problem at hand. It further saves a history of all your calculations so that your past computations are safe within arm's length when you need them.
Price: $4.99
2 – Science Glossary:
Acquiring knowledge about various scientific terms and brief biographies has never been easier or cheaper, for that matter. The Science Glossary app can be picked up from the Apple App Store absolutely free of cost. But how does this entrant in our queue help us gain a better insight into this subject? Well, this software is packed with a plethora of definitions and short explanations on a plethora of science related terms. Besides catering to high school and undergraduate students, this application also garners the interest of science fans situated all over the globe. So if you want to know who Marie Curie and John Dalton are, then this is the place to be.
Price: Free
3 – Periodic Table of Elements:
The Periodic Table of Elements app offers various information bits on 117 different elements plucked right out from the colorful chart. You'll emerge a little wiser by knowing the atomic number and mass, chemical symbol, family name, element name in English and Japanese, classification, electron shell configuration, period and much more. Besides the embedded data, you can also acquire more specs from Wikipedia. Furthermore, you don't need to access the internet to gain knowledge on the subject. Simply punch in your desired element or opt for one from the app itself, to know more about it.
Price: Free
4 – 3D Brain: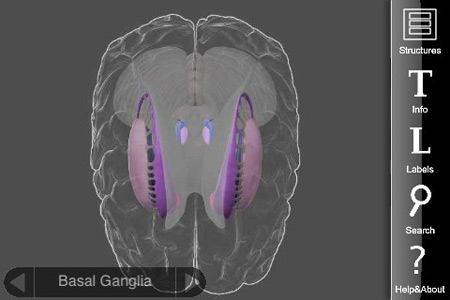 Most of us simply love watching 3D movies and playing 3D games. So here's an app that allows you to take a closer look at the mastermind behind our mental and bodily actions using the same 3 dimensional perspective. The 3D Brain app exploits the touchscreen feature of the Apple handset and allows you to rotate and zoom into nearly 30 interactive structures.
By doing this, you'll be able to fathom just how the brain region functions and what happens to the same when involved in a mental illness or injured. The developer has endowed the software with information on brain damage, disorders, functions and case studies pertaining to each region. What's more, this application in our array is also free of cost.
Price: Free
5 – Molecules:
Further trudging deeper into the whole 3D feature is the Molecules app. This option will be a complete treat for all those who love to dabble in atoms and ions. You can view three dimensional renderings of molecules and even alter their structure by simply using your appendages. This can be done by performing two-finger pinch gestures, panning across the screen and even zooming in for a closer glance.
Additionally, you have a choice of acquiring the arrangement in either a space-filling visualization mode or ball-and-stick mode. Want to know how the molecular structure of caffeine looks like? Simply pull out your iDevice and refer to the Molecules app.
Price: Free
6 – A-Z: Full Body Anatomy:
Ever wondered what might be going on internally in that body of yours? Well, you can now get 3D visual insights on more than 200 human body organ parts. The A-Z: Full Body Anatomy application comes complete with detailed descriptions of each part, making it a worthy contender amongst the other apps. By downloading the software, you'll be endowed with information bits pertaining to different categories such as the ear, brain, eye, heart, intestines, liver, kidney, nervous system, spine, skull, throat, stomach, fetus and lungs. All pictures of these organs are reproduced onscreen in the form of clear graphics.
Price: $0.99
7 – Starmap:
Now understanding the mysteries of the universe is just $12 away. The Starmap app puts a complete planetarium into the palm of your hands. And thanks to the iPhone compass, you'll be able to locate the exact slice of the sky by simply moving your Apple gadget over a segment of the heavens above you. It further boasts of hoarding a library of 200 main stars, 350,000 visible stars and 150 galaxies, nebulae and clusters.
Let the app show you what's tonight's best selection. Other attributes embedded here include lunar calendar, constellation boundaries, time animation, finder arrow for localizing objects, shooting stars zones and a full night vision mode.
Price: $11.99
Conclusion:
These iPhone science apps are your portable solutions for acquiring mind-blowing facts while on the go. So which ones did you download already? Do let us know by commenting on your favorites ones in the box below.